I remember, in 1992 or 1993?… I got 20 CD's from Columbia House FOR FREE! I just had to buy one CD a month for however long the promotion was for. I didn't. My dad ended up paying however much it was after months of racking up charges…. What an asshole I was. And I get mad when my kid can decide what time she needs a ride.
Well in that 20 pack of CDs was "Dirt" by Alice in Chains. It was there I learned the blistering vocals of Layne Staley. I was already into Nirvana and was really into Cobain's yelling and screaming, but Staley, to me, took that to another level with range and control. There was an order to his chaos and really enjoyed the dark nature of the Alice songs. Jar of Flies came out a year or so later and I was getting into playing guitar around that time, or had been for a while… it was a long time ago. I remember popping the CD in and hearing those warm Blue Steel strings light up the intro to Rotten Apple and being so thrilled at the … eerie feeling of the chorus. Good stuff. I've always been a fan of Staley, so here's a tribute to him. RIP bud. Thanks for the tunes.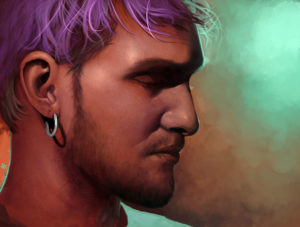 This art is available as a print. CLICK HERE to pick one up!