So October is finally here and that means I'm going to try and really pump out some horror pieces. I love it so much, but I really never take advantage of the month that everyone really gets into the season and starts to consume horror content. I'd say the previous post featuring The Witch was the first piece, so this is the second. The Spiderjack. I think I started to create something like this last year, but ended up scrapping it. This one seemed like it was okay to complete. Ha!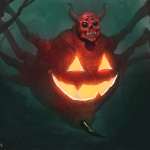 I'm also taking part in the "Inktober" phenomenon this year. Be sure to follow my social media for the dailies here: Facebook Instagram
I'll be compiling them all at the end of the month for anyone who gives a care.